If you're looking for a non-toxic, vegan and long wearing concealer, keep on reading! I have been on the hunt for cleaner face makeup for everyday wear for the longest time. These two products from FitGlow really are worth trying out!
Disclaimer: Although this is NOT a sponsored post (from FitGlow or Amazon) as an Amazon Associate, I earn from qualifying purchases. I make a small commission from the affiliate links in this post. 
First Impressions
Let me just say how excited I was to try Fitglow Beauty's Correct+ Eyebright Concealer and Fitglow Beauty's Conceal+ Concealer (in shade C3). I have been searching for a cruelty free concealer with natural and organic ingredients for the looongest time. But don't get me wrong. I have also been searching for a concealer that is at least medium coverage, super long lasting, and also has a natural finish. I really liked that this was a medium to full coverage concealer. The eyebright and concealer lasted both quite a long time. I wore it for 12+ hours and it still looked like I just applied it.
The only downfall for me was that when applied the products by itself without a setting powder, it had a dewy finish, and since I tend to look a little shiny in pictures, I would prefer a more satin or matte finish. I think if I were to set it with a powder, it would help with the shine and reduce the amount of mascara transferring onto my under eye area. I noticed that this tends to happen a lot with any product that I apply around my eye area.
The same thing happens when I use Fenty Beauty's Match Stix (in shade Bamboo). I haven't had a problem with any raccoon eyes when I use Estee Lauder's Double Wear Foundation (in shade 1W1 Bone)  as a concealer on my under eye area. For the longest time I thought that it was the mascaras I was using that caused it to transfer and gave me raccoon eyes, but once I used the Estee Lauder foundation as an under eye concealer, I no longer had raccoon eyes! (You can read more about my thoughts on the Estée Lauder Foundation here)
Application with Finger
Don't freak out at me guys! I actually never liked applying face makeup with my fingers either until recently, I took a trip to Philly and I forgot to pack my makeup sponge (oops) and I was so upset with myself that I was going to go buy one from the pharmacy near my hotel, but of course, I, the lazy potato, forgot that I needed to buy one. So I got to the hotel and just decided to use the lemon that life gave me–my ring finger!! I feel like I use less product this way and it's a little more sanitary this way since I can wash my hands before and after application, even though I wash my sponge after each use. I tapped lightly with my ring finger so as not to tug on my skin.
I applied 1 layer of the Fitglow Beauty Conceal+ in Shade C3, Medium – Vegan & Organic Concealer on the right side (my left eye), and I applied 1 layer of the Fitglow Beauty Correct+ Eyebright Concealer on the left side (my right eye) as shown in the photo below:
Application with Makeup Sponge
I used a damp sponge by Real Techniques (my favorite budget friendly sponge) to apply both products. I waited about 2 minutes before applying the second layer so that the first layer would set. After applying two layers, I went over both sides with a setting powder. I usually don't ever use a setting powder, but since some mascara transferred in my under eye area the first time I used it, I decided to see if it would happen again with powder applied.
I love using a sponge because it really gave me a more natural look as opposed to just using my fingers. I felt like I needed to apply a second layer for both sides because even though I like the more natural look, I wanted more coverage. I would recommend using a sponge for the natural everyday makeup look and it makes building the concealer to get that more full coverage look more seamless.
You can tap or click each photo to expand and zoom in for a closer look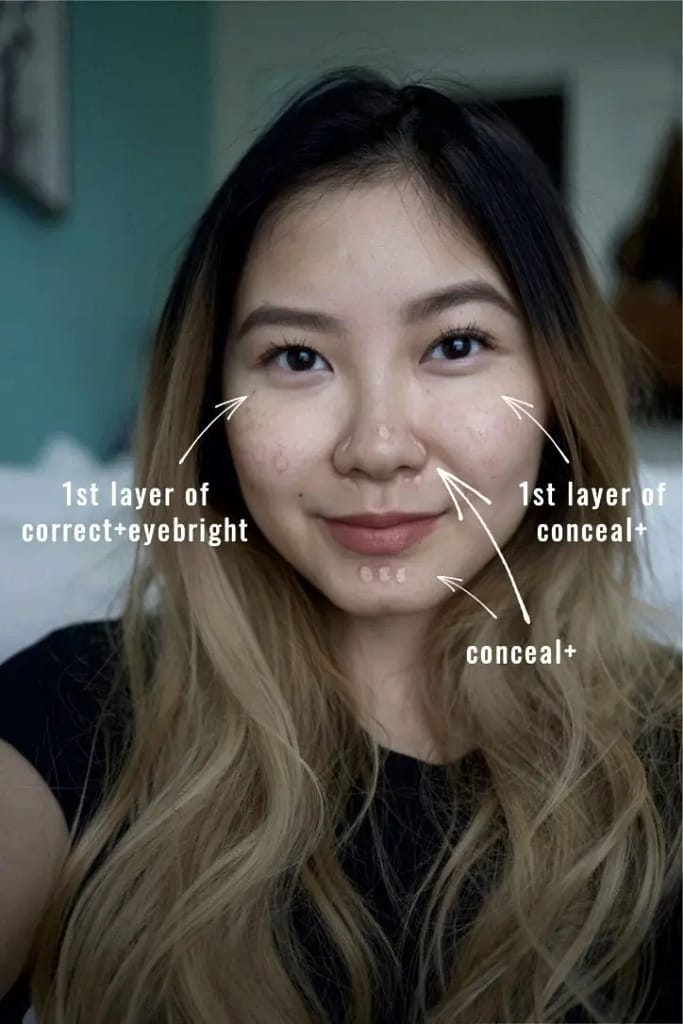 Applying with Finger vs. Applying with Sponge
I would say that when applied with just my finger, I got medium/full coverage with just one layer. When I applied with a makeup sponge, I think the sponge soaked up some of the product, so I had to apply a second layer. For the purpose of reviewing FitGlow's products independently, both times that I used this product shown in the photos, I made sure to moisturize and wait a few minutes before applying. In these two times, I did not apply any primer, sunscreen, or anything else besides moisturizer. For the other days outside of these photos for the review, I put on moisturizer and sunscreen before applying FitGlow's products.
Finger Application
fuller coverage
more dewy finish
Sponge Application
medium coverage
more natural looking
12 Hour Wear Test
You can tap or click on each photo to expand and zoom in for a closer look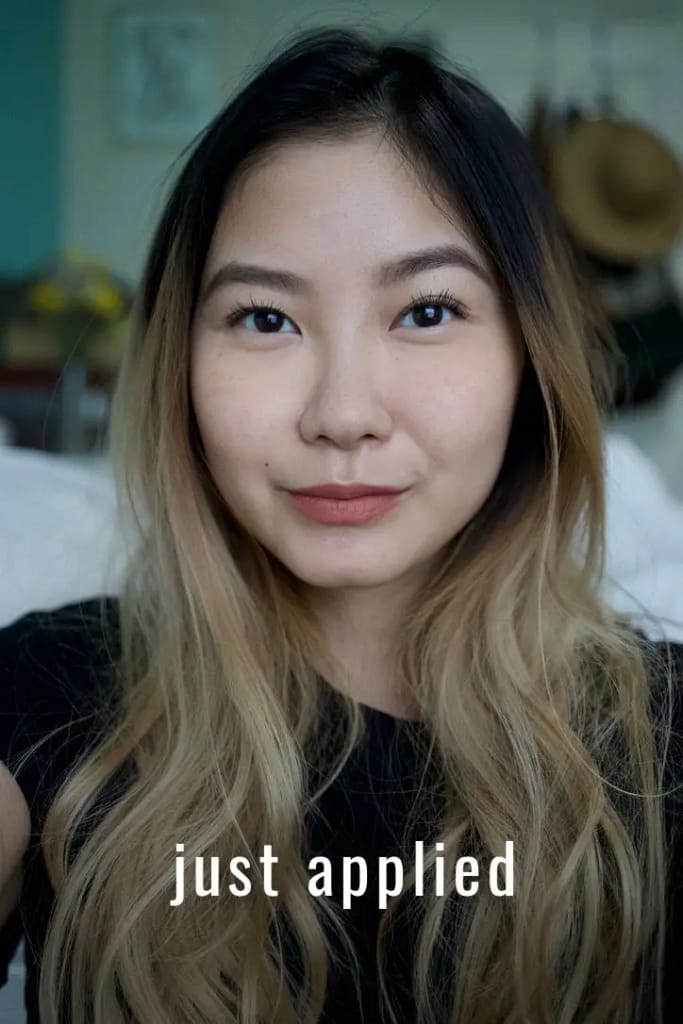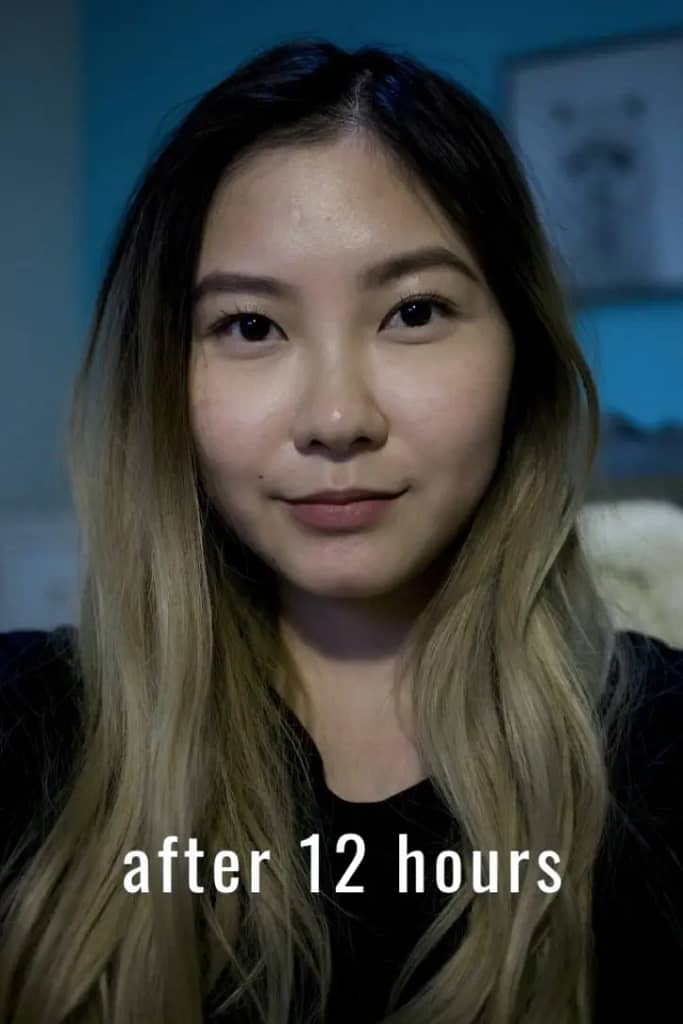 Good For
Redness
Dark undereye area
Around nose and chin area
Acne scarring
Pros
Long lasting (12+ hours)
Does not crease around eye and nose areas
Vegan (Cruelty-free)
Paraben-free
Silicone-free
Organic ingredients
Natural ingredients
Cons
Price ($42)
Transfers small amounts of mascara to under-eye area WITHOUT setting powder
Finding My Shade
The Correct+ Eyebright only has 1 shade available since it's purpose is to brighten the under-eye area. It has a pale yellow undertone which is great for correcting the blue undertones of the darker under-eye area.
The Conceal+ Concealer has 9 shades available, so I decided to go with shade C3 since it's almost summer time. It's labeled as "Medium" and has more of a peachy/golden undertone. I think for summer time C3 or C2.5 is a good match for my skin and for Winter, maybe shade C2. It's supposed to match these shades: Fitglow Foundation: VF2 Light/Warm, VF3 Light Medium, VF3.5 Medium/Warm & VF4 Golden Medium.
You can see that my concealer shade and foundation shade look pretty different, but I found that since I wear the eyebright under my C3 concealer, it lightens and adds more yellow and matches my skin tone better.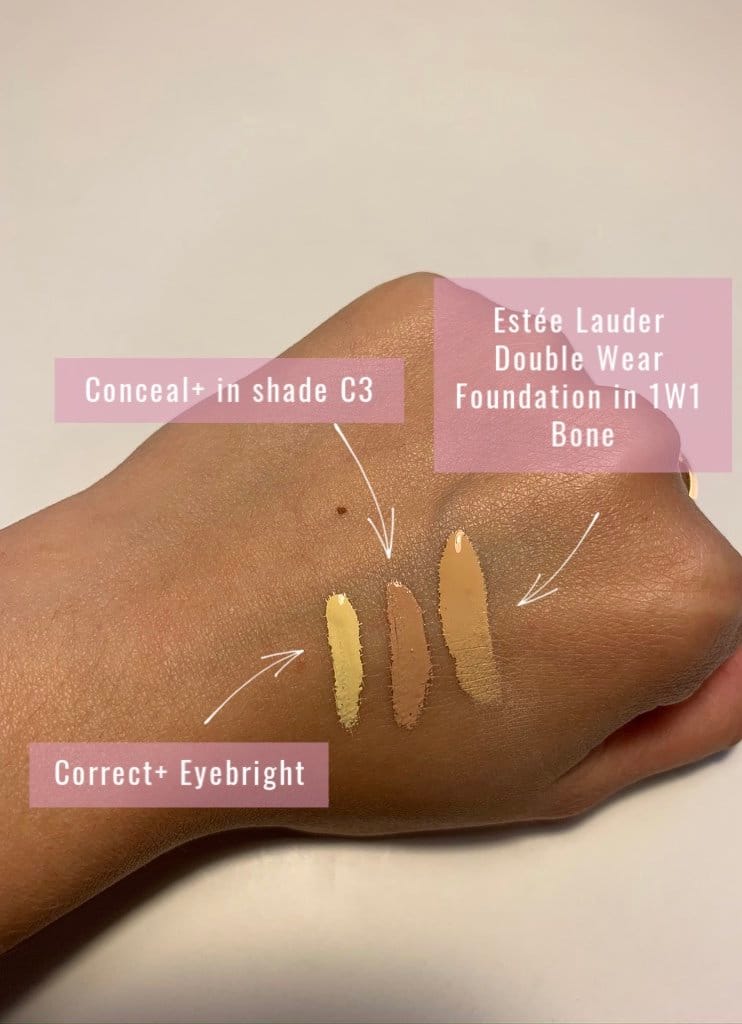 Do You Need to Buy Both?
I read a review about the Correct+ Eyebright Concealer saying that they wore just the Correct+ Eyebright without any additional concealer on top and it worked well for them as a regular concealer. So I wanted to see if that would also work for me because let's be honest, I am lazy and who wouldn't want to spend less and get more?? But I decided to get both the Correct+ Eyebright and Conceal+ Concealer because I have some redness under my lip and cheeks that I wanted to cover up and the Correct+ Eyebright is mainly for the under eye area.
I didn't find that applying the Correct+ Eyebright worked well for me just by itself. The color was too light for my skin and I think it looks better with my shade of concealer on top. I know that some people really like their under eyes to be super bright, but I like to go for more of the natural look that would also look natural in photos. I don't put on crazy makeup like with the whole baking, brightening, sculpting, or whichever 10 step process there is. But if I had an event like attending a wedding or going somewhere where there would be lots of pictures taken, I like having full coverage makeup, so I'd wear both the Correct+ Eyebright and the Conceal+. If I were to go to work or just hang out with friends, I like having a more natural makeup look so I'd just wear the conceal+.
Final Thoughts
I would definitely recommend the Correct+ Eyebright Concealer and the Conceal+ Concealer for anyone looking for a vegan, organic and natural ingredients concealer who is going for a dewy finish with medium-full coverage that is super long lasting. I wore this for 12+ hours and it still looks like I just applied it!! There's just something about knowing that I'm putting healthy and natural products on my face that makes me want to keep using it in my daily makeup routine.
If you're looking for a concealer that you can just throw on quickly and use for a daily natural makeup look, I'd say this is definitely one to invest a few more dollars in! Your under eye area is very delicate and should be taken care of, so I believe that being aware of what products you're putting on that delicate skin is very important, and a decision that your eyes will thank you for in 5, 10, even 20 years down the road!
Leave me a comment below to let me know if you want me to try out any specific concealer or do comparisons with any other concealers!
Here's Their Full Ingredients List:
Ricinus Communis (Castor) Seed Oil *, Cera Alba (Beeswax)* , Vitis Vinifera (Grape) Seed Oil*, Lauryl Laurate, Simmondsia Chinensis (Jojoba) Seed Oil*, Copernicia Cerifera (Carnauba) Wax, Phytoelastin PF (Plant Elastin), Water, Phospholipids & Phytonadione (Vitamin K Liposome ) , Leuconostoc/Radish Root Ferment Filtrate, Caffeine, Camellia Sinensis Leaf Extract (Green Tea Extract ) *, Glycyrrhiza Glabra Root Extract (Licorice Root) * May Contain: Titanium Dioxide, Yellow Iron Oxide, Red Iron Oxide, Black Iron Oxide, Ultramarine Violet, Chromium Oxide Green, Manganese Violet. * Certified Organic Ingredients