The best hair secrets are the ones we don't keep to ourselves! I am so excited to share with you the products that CHANGED MY LIFE. They are so simple, yet so effective. All of these products are high quality, but very inexpensive that no one can't give them a try!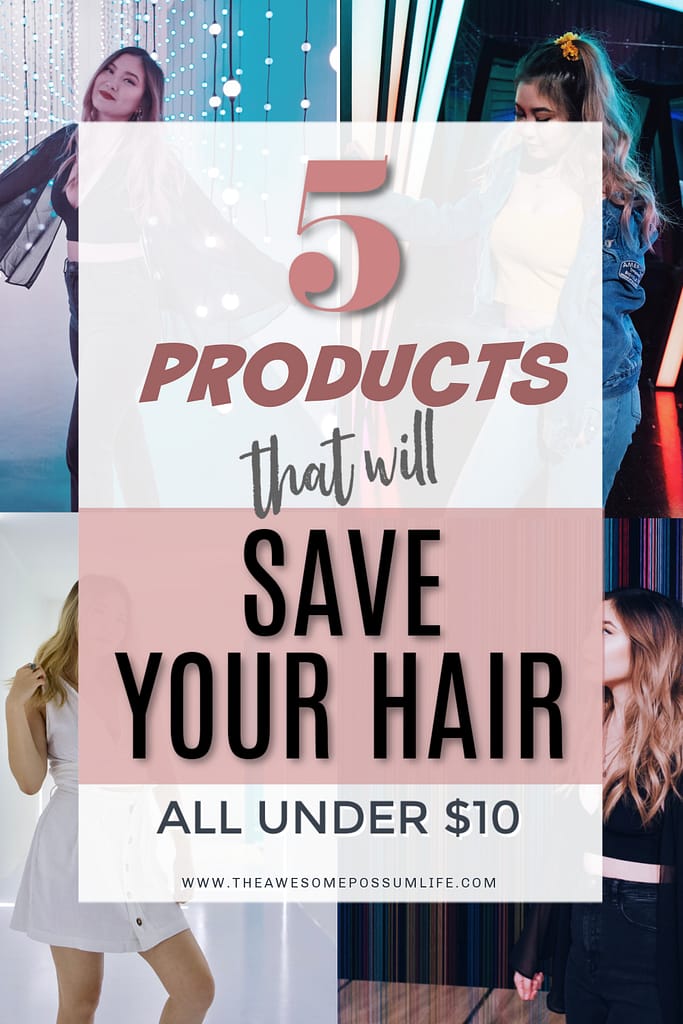 Disclosure: There are some affiliate links below, but these are all products I highly recommend. I won't put anything on this page that I haven't verified and/or personally used.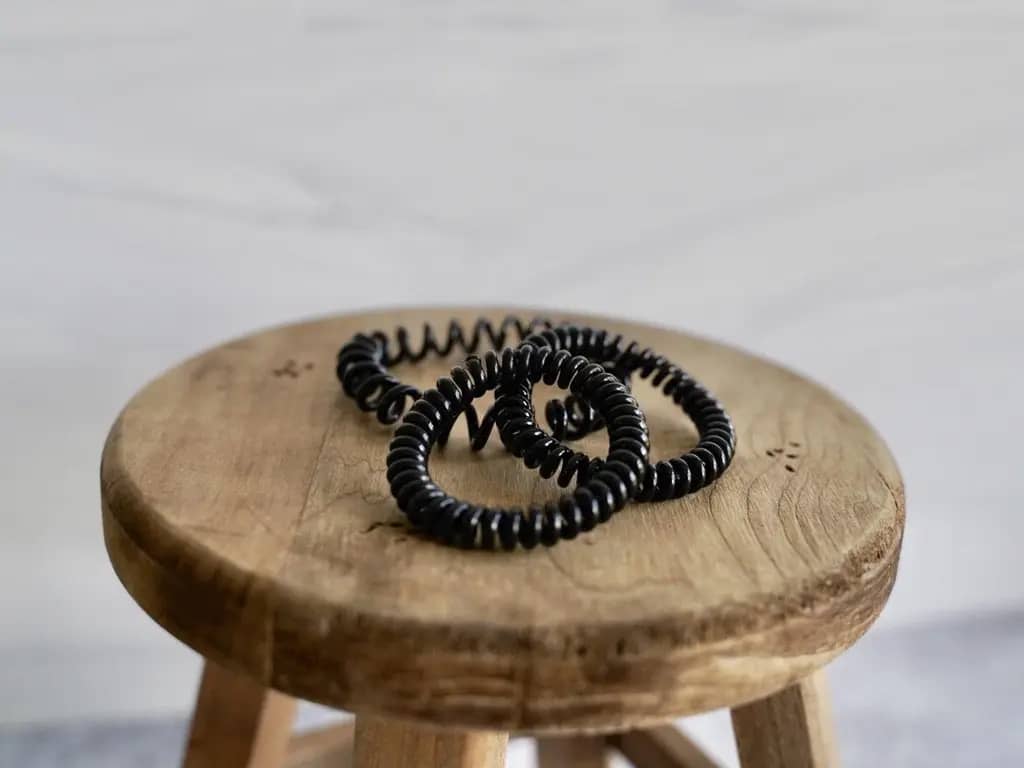 1. Invisibobble Hair Tie $8
If you are someone who does any physical activity (gym, hike, yoga) or someone who just loves tying their hair up, I highly recommend Invisibobble hair ties. I actually didn't buy these hair bands myself. My sister got them and gave me one to try out. I ended up loving these so much, so I didn't give it back (hehe sorry sis if you're reading this).
I always hated having the crease that regular hair ties make and don't even get me started on how many I accidentally broke. I tend to sweat a lot during workouts, so after using a regular hair tie for about 2 hours, there would be a crease in my hair. But after using the Invisibobble for 4+ hours, there's no crease in sight.
It's just nice having a solution to my two main problems whenever I tie up my hair. No crease and no accidentally breaking the hair tie (since it feels like a sort of plastic material). Invisibobble also claims that they are more hygienic since it doesn't absorb dirt or bacteria (a plus!).
---
---
2. Turbie Twist/ Microfiber Hair Turban/Wrap $9
I highly recommend using a microfiber towel like the Turbie Twistor any microfiber head wrap towel to lightly squeeze any excess water out before gently wrapping your hair up in it.
I have had this product for about more than 4 years now, and it has been one of the best purchases I've made for my hair. It has always taken me about 15 minutes to dry my hair with a blowdryer after just leaving it clipped up for about 15 minutes while I do my makeup.
If you're still using a regular bath towel to dry your hair, you are doing a lot of damage to your hair, mostly if your hair is colored!! When your hair is wet, it's at its most vulnerable state. It's at its weakest. So when you start tugging and dragging that towel around your head like all the guys do in movies after they shower, you will get more split ends and lose more hair that way. A regular cotton bath towel just tugs at your hair and causes more harm to your already delicate hair. Trust me, you are going to want to keep all of your strands of hair if you can help it. Your future self will thank you!
I like to be as minimal as possible with my hair routine, so I also use my Turbie Twist like a regular towel to gently dry the ends of my hair before I wrap it up. You don't need to tug and drag the microfiber towel wrap all across your head, because once you leave it on as directed for at least 10 minutes, it will dry most of your hair and your hair blow drying time will be basically cut in half!
---
---
3. Honest Hair Detangling Spray $5
I've tried all the different It's a 10 Miracle Leave-In Product sprays, and let me tell you how happy I am to have found the Honest Beauty Detangler Spray. My wallet is even dancing for me! I have blonde colored hair, so it got weaker from all the bleaching I had done, so my hair tends to get tangled up during my 2nd/3rd day hair. I knew that if I wanted to continue bleaching my hair, that I needed to keep it healthy and tangle-free, so I decided to buy this and I have been using it after every wash for the past 2 months.
I love how it has toxic-free ingredients, cruelty-free, and smells like a field of citrus! I loved the smell of It's a 10 products, but I didn't like how it had Methylparaben, Propylparaben in it. If you want healthy, clean hair, the Honest Beauty Hair Detangler is not only less than $5 (what!!) but it's also full of clean and better ingredients for your delicate hair!
What My Hair is Like
bleached and colored blonde
naturally straight
thin
no layers
curls falls flat with high humidity
How I Treat My Hair
use hot curling iron/wand 2-3 times per week
wash every 2-3 days
dry shampoo daily except on wash days
root volumizing spray and hair spray after curling
---
---
4. Wet Brush $7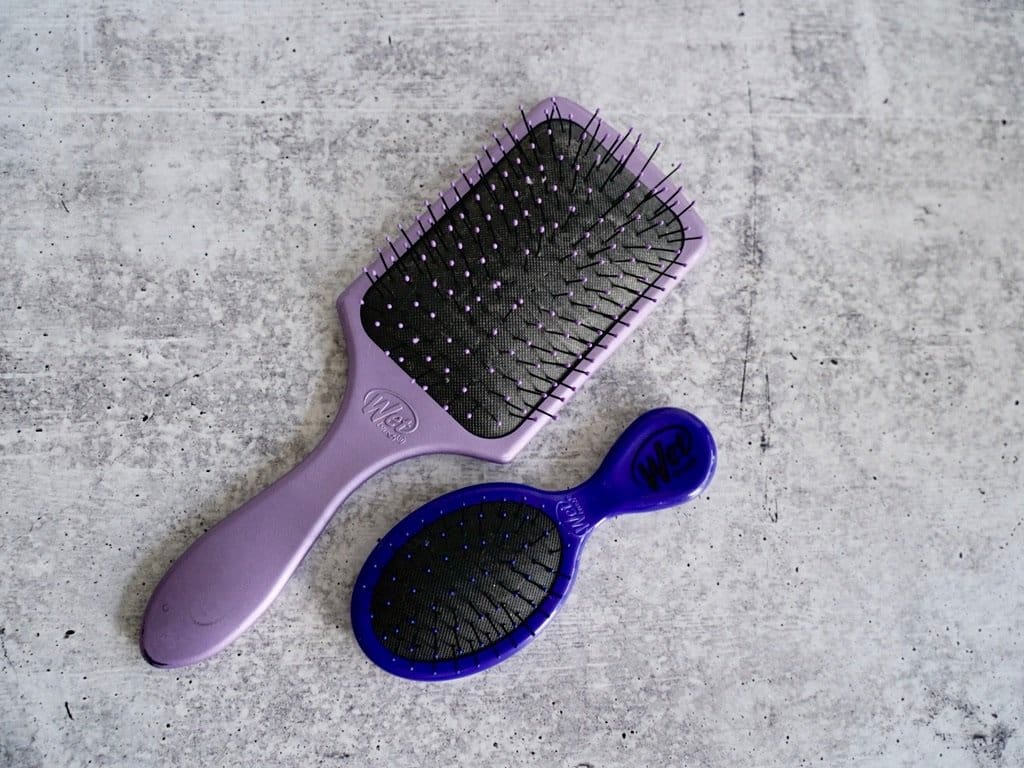 I got this as a gift from my best friend who is constantly coloring/bleaching her hair every other month (if you're reading this, please let your hair rest!! hahaha). At first I was like, "It's just a hair brush…why do I need a specific kind??" but then after using it, I can now see why this brush is like a miracle for wet/damp hair. I don't use it when my hair is wet, more-so when it's almost fully dry, but still a little damp after blow drying.
Your hair is very vulnerable when it's wet and can easily break, so I wouldn't recommend brushing it so often when it's wet. Yes..yes I know that it's called a "wet brush". I'd say you can get the same non-tangled hair result from brushing your hair when it's slightly damp and when it's dry.
I absolutely love and recommend the Wet Brush because it works just as well on wet/damp hair as it does on dry hair. There's just something in the design or materials of the bristles that doesn't catch on your hair and just slides through all tangles of your hair seamlessly. And remember, always start from the ends of your hair and work your way to your roots to reduce the amount of tugging and pulling when brushing.
---
---
5. Dry Shampoo Powder (non-aerosol) $10
Have you gone through more cans of dry shampoo in a year than you can count? I've gone through more than 7 cans of Not Your Mother's, Klorane, and Batiste just last year!! I think this is the best (and very inexpensive) dry shampoo powder I've used so far and I've even made my own DIY powder.

If you're like me and want
1. A dry shampoo that actually works
2. Save money $$$
3. Help save the environment… then this product will be your holy grail!
Honestly, I will never go back to those spray cans. It is the perfect travel companion. So compact, lightweight, and best of all, non-aerosol. This dry shampoo powder is my new favorite hair essential because I can see how much product is left so I don't randomly run out mid spray when I need it the most. You can leave it in the car in case of emergencies (unlike the spray cans in the heat). I'm telling you now, once you switch over to powder, you won't go back!
Leave me a comment letting me know which ones you're excited to try! If you have any recommendations that you can't live without, I would love to hear from you!
---
---