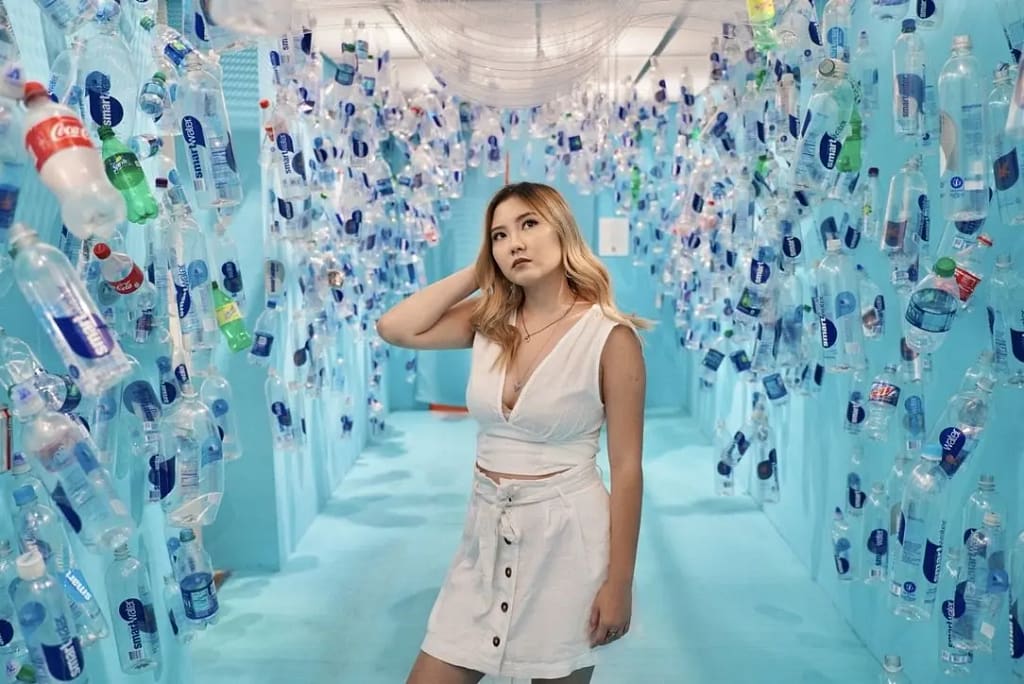 In general, buying higher quality products made of materials like glass, silicone, and metal instead of cheap plastic will help you save money and reduce waste. These materials are more durable and will last longer, resulting in you making less purchases over time. Although plastic products may seem like the cheaper option at the time, they don't hold up as well and you will need to buy that same cheap plastic product again in a couple weeks/months as opposed to using your glass/silicone products for months/years.
Disclosure: There are some affiliate links below, but these are all products I highly recommend. I won't put anything on this page that I haven't verified and/or personally used.
---
Beauty & Bath
---
1. Pacifica Micellar Water and Microfiber Cloth — Makeup Wipes
---
Your life will change when you try out these two products together. This is hands down the fastest, easiest, and best way to remove your makeup after a long day. Not only will you save so much money not having to keep repurchasing those wasteful one-time use makeup remover wipes, you will also reduce your carbon footprint! Just add the micellar water onto the microfiber cloth and gently wipe away makeup in an upward and circular motion. The microfiber cloth is much gentler than the one-time use makeup wipes on your delicate face, and unlike those wipes, this micellar water has natural ingredients.
---
2. Shampoo Bar — Plastic Bottle
---
One of my favorite finds last year was the shampoo bar. I honestly did not think that a shampoo bar could last long or even do the job well like conventional shampoo in bottles. But during my journey to reduce plastic waste in any way I can– even if it's small, I found the best product that's perfect for travel, reduces clutter in my shower, and helps the environment! These shampoo bars can remove all that nasty gunk buildup from all the dry shampoo without even using that much product. I have been using the same Lush Jumping Juniper shampoo bar for over 6 months (3-4x/week), and I still have about half left.
---
3. Dry Shampoo Powder — Aerosol Spray
---
If your hair could talk, it would tell you to make the switch to powder dry shampoo RIGHT NOW. Powder is honestly the only way to go in 2020. You don't need to lug around and worry about an aerosol spray can when traveling or get trapped in all the chemical smells after each spray. You can target your roots or any other oily parts of your hair just as easily with powder. If you don't like fragrances and can smell it even when the bottle says 'unscented', powder will be your best friend. The smell doesn't linger on throughout the day and you can feel assured that you don't have that 'dry shampoo' hair smell. Not to mention, aerosols play a detrimental role in affecting the ozone and adding to all the smog. Check out my post about my favorite powder: Hair Dance Dry Shampoo. Use coupon code THANKYOU15 for 15% (expires December 2020). This code is not an affiliate code.
Reference: https://www.scientificamerican.com/article/are-aerosols-still-bad/
---
4. Sud Stud Silicone Soap Sleeve — Loofah/Washcloth
---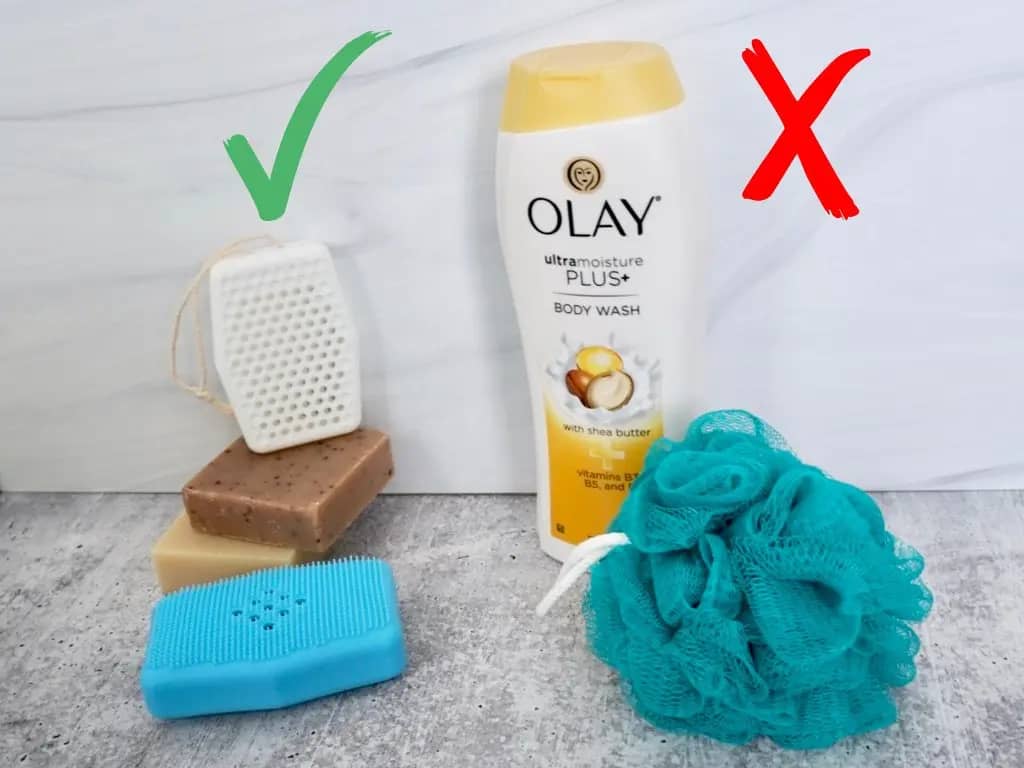 If you are tired of replacing your loofah/brush/glove every few months and are looking to switch over to bar soap to reduce plastic waste from the big body wash bottles, this soap sleeve will be your favorite shower tool. I used to hate using bar soap because it would leave so much of the soap on the holder because it couldn't drain well, which is such a waste! This is honestly my favorite body soap tool because it gives me grip and won't slip from my hands, actually exfoliates (even better than a loofah in my opinion), and reduces bacteria from building up. There's holes to help with drainage and it can hang for faster dry time. I love the second version of the Sud Stud because it's bigger and can fit my soaps in and the bristles really help to exfoliate all the dead skin off your body.
---
Home & Kitchen
---
5. Laundry Detergent Strips — Big Plastic Bottles
---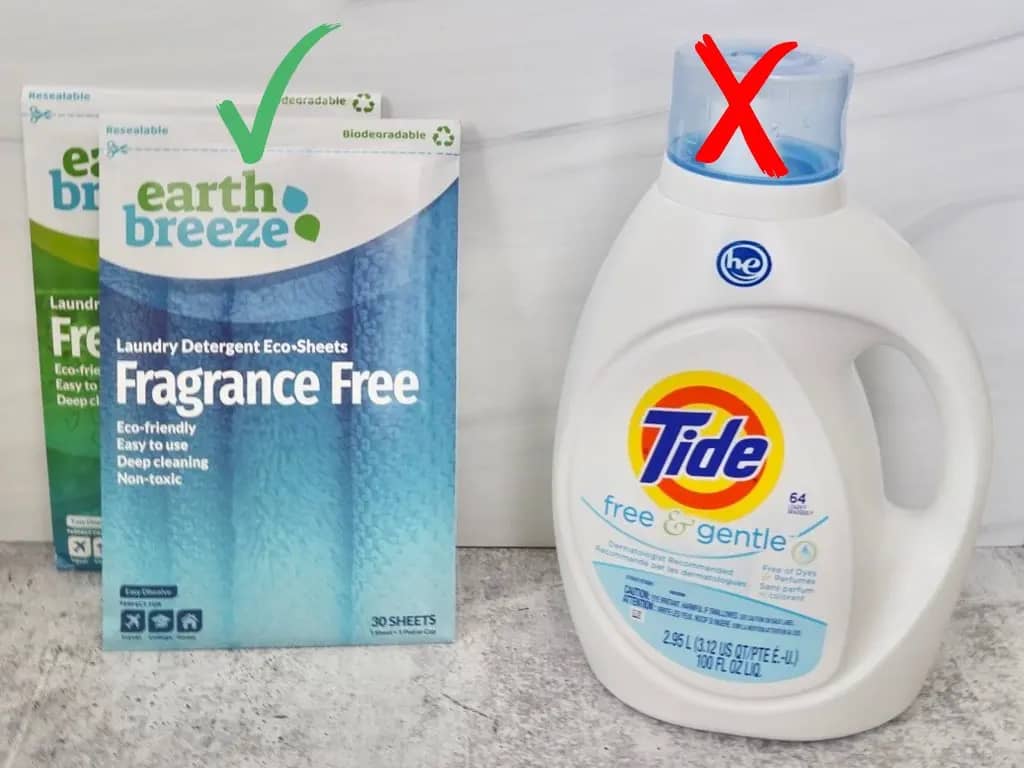 Is it just me or does anyone else think those giant ugly bright orange and green laundry detergent bottles totally ruin your aesthetic? These will be your lifesaver when doing laundry. If your laundry area/room is small or doesn't have much storage space, these laundry detergent strips will save you so much space and aren't huge eyesores like those laundry detergent bottles. I love using the Earth Breeze Laundry Detergent Strips because it's so convenient, no spills, easy to store, and cleans just as well as the conventional detergents. Use code: ECOPALS10 to get 10% off your order!
---
6. Wool Dryer Balls — One-time Use Dryer Sheets
---
If you are tired of constantly buying those dryer sheets that end up costing a fortune over time, it's time to invest in these wool dryer balls. I love that they are super affordable and can be reused indefinitely. It keeps my clothes static free, reduces my drying time, and my clothes come out super soft and fluffy every time. I mean you can't go wrong with spending $10 for a lifetime product that does the same as those one-time use dryer sheets.
---
7. Hand Soap Refill Tablets — New Plastic Bottles
---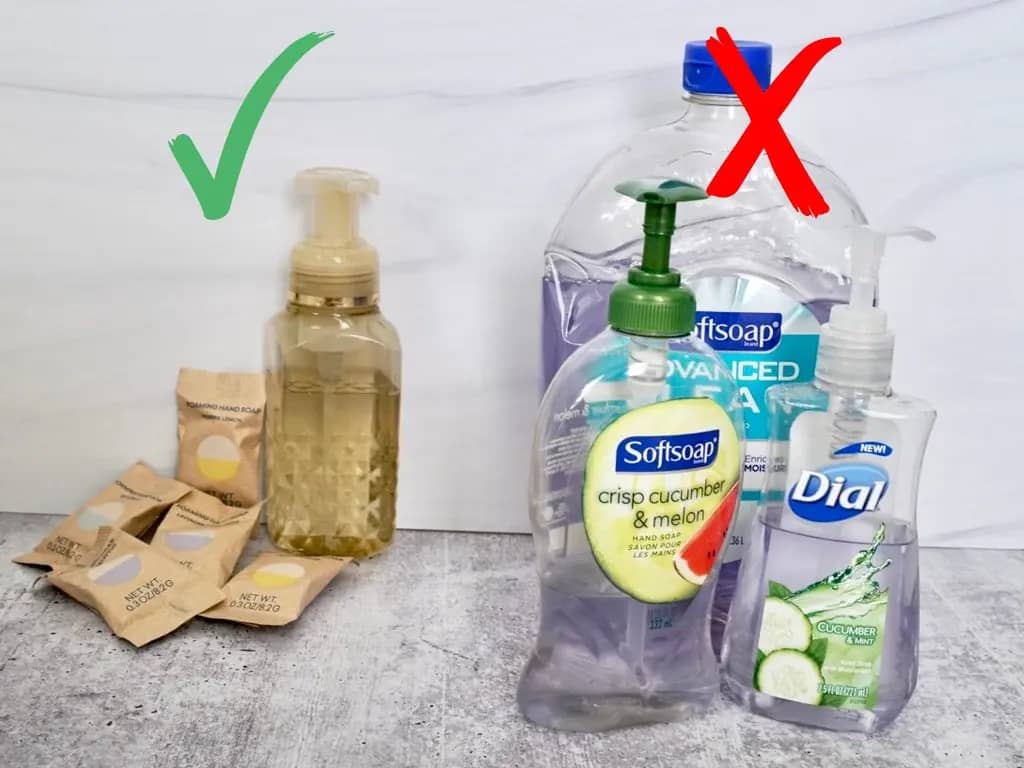 How many Bath and Body Works foaming hand soaps have you used so far this year? If the answer is more than one, you need to get these hand soap refill tablets immediately. I know that the coupons and deals can be too good to give up, but trust me, your wallet will thank you later. You can also save even more money by reusing an old Bath and Body Works foaming hand soap dispenser. Those bottles can hold 8.75 fl oz which is the perfect amount for these Blueland hand soap tablets. I love how these hand soap tablets show you how much of the soap that companies actually put in those plastic bottles. I just recently found out that most hand soaps are 90% water and 10% soap concentrate! It's also shocking to me how many soaps use toxic ingredients that are banned in Europe and Canada but are allowed in the U.S.
---
8. Silicone Sponge Gloves — Regular Sponges
---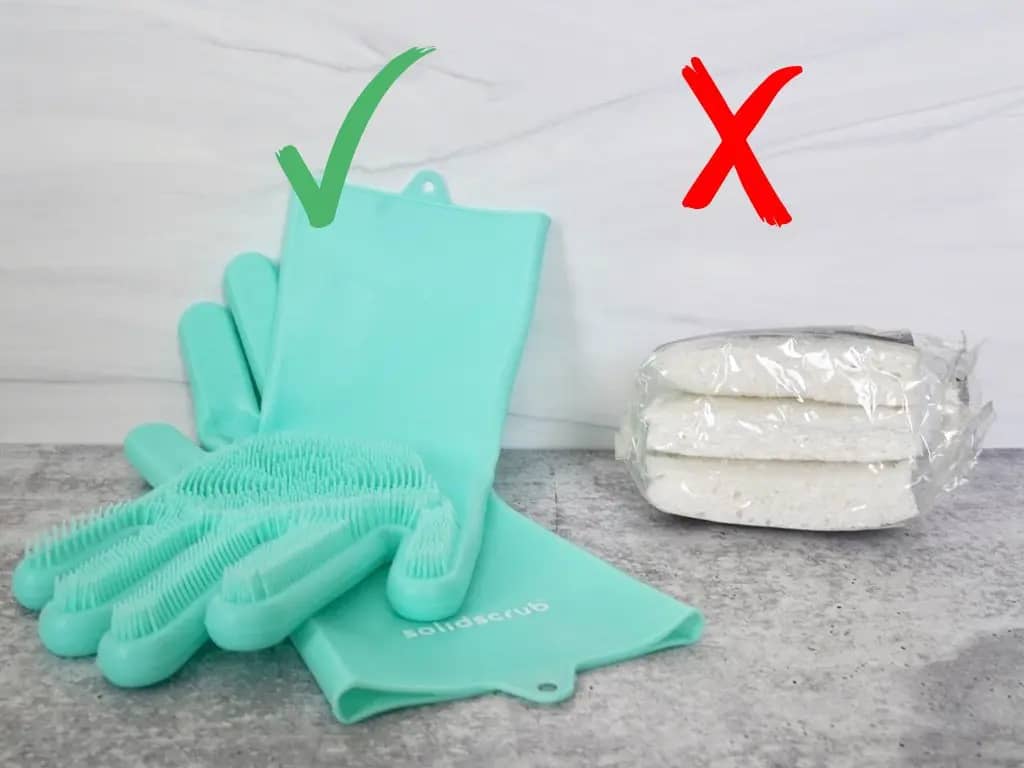 Regular sponges are full of bacteria and get moldy real fast. Silicone is super easy to clean and doesn't harbor bacteria like the regular sponges do. I love using these gloves because silicone dries quickly and can be cleaned easily, making it the perfect solution for cleaning my dirty dishes. No one wants to eat off a dish that's been cleaned with a dirty sponge. If you have family members that aren't so hygienic and won't use anything else besides the conventional sponge, try showing them these silicone dish gloves and how it cleans just as well, if not better!
9. Glass Food Containers — Plastic Containers
---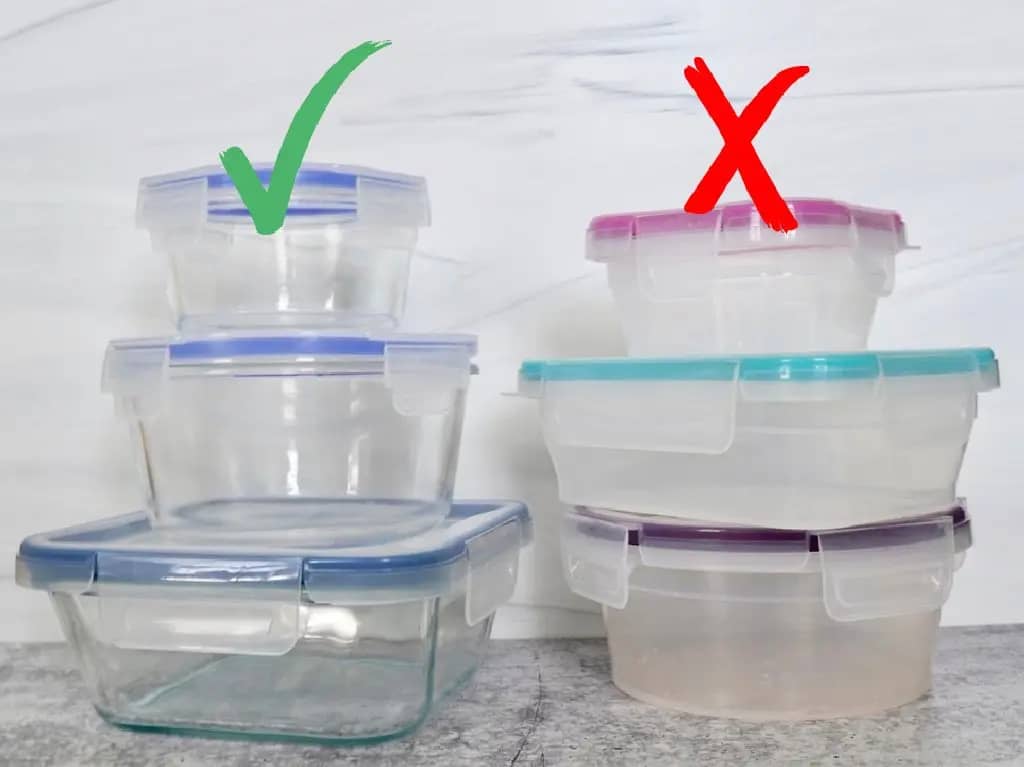 Costco sells high quality glass food containers at a good price and it goes on sale quite often! I love packing my lunch for school and work in glass containers because it doubles as a bowl so I don't need to pack a separate bowl or plate. I can easily microwave my lunch without worrying about the harmful chemicals that plastic containers release. Another plus is that glass doesn't stain like the plastic containers do (look how gross the bottom right plastic container is). Yes, the lids are all plastic, but I never microwave the lid and reducing plastic use in any way is a win!
---
10. Reusable Sandwich Bags — Plastic Bags
---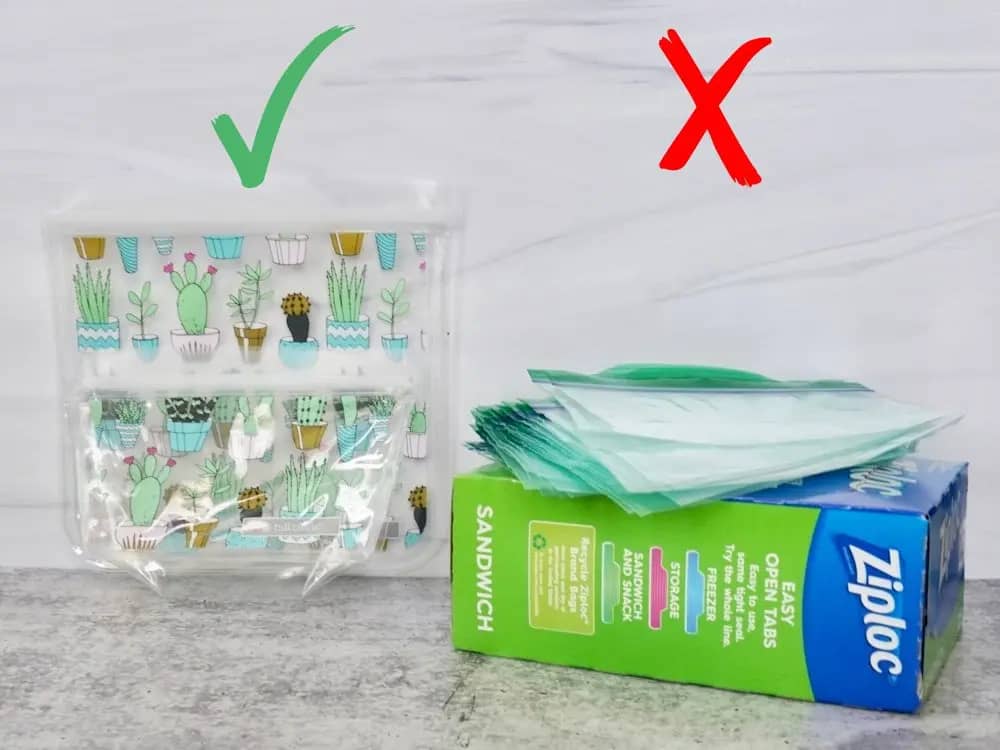 How many boxes of sandwich and gallon bags have you bought this year? I used to spend so much buying in bulk at Costco thinking I was saving money, but I've actually been wasting so much money and plastic. These one-time use plastic bags are harmful to the environment and add up over time. These silicone reusable bags are easily washable, more durable, and super cute! They have ones with such cute designs at Homegoods/TJ Maxx/Marshalls and Amazon.
---