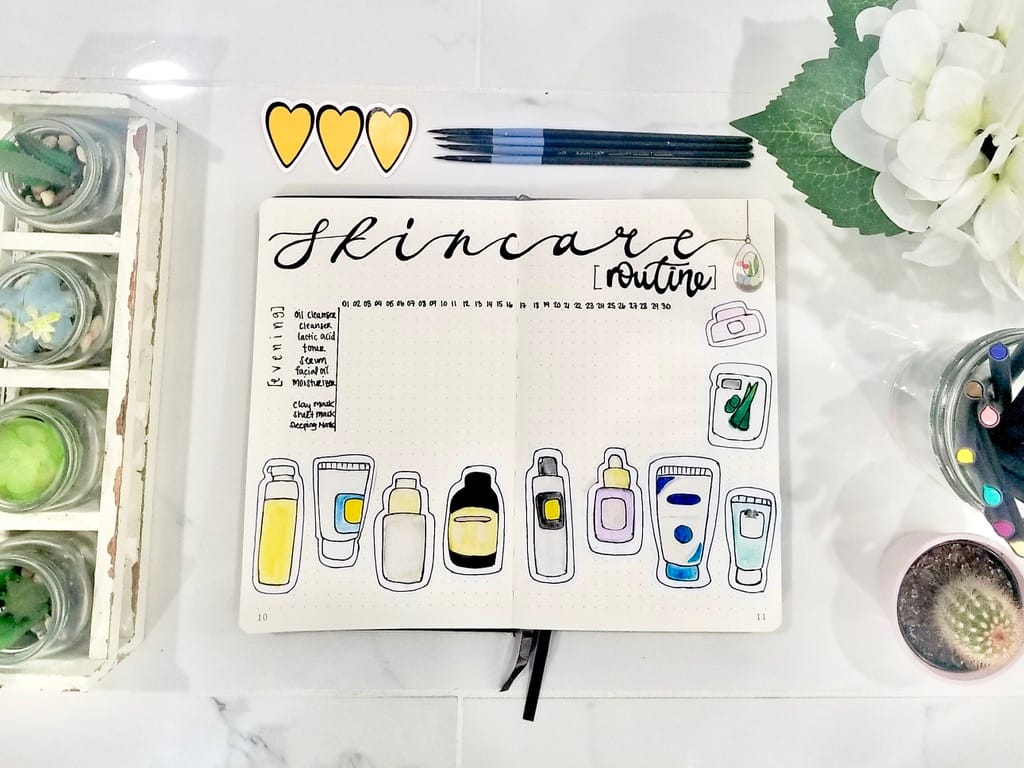 – Featured writer: Dewy –
A little about Dewy: she is my best friend who is super crafty and artsy! Everything she does is so cute, so I asked her to share some things she loves doing with y'all! I hope you enjoy and send her some love in the comments 🙂
Disclosure: This post may contain affiliate links, which means I'll receive a commission if you purchase through my link, at no extra cost to you.
Hello everyone!

As we are approaching the end of May, I have decided to update my bullet journal for the upcoming month. Because it is starting to get hot, my skin care routine is changing to adjust to the humid climate. I use my bullet journal to help track this change and to encourage me to adapt to a new skincare regimen. In this post, I will share how I use my bullet journal and how I created my skincare routine tracker.
What is a Bullet Journal?
A bullet journal can be anything. It can be a diary, planner, routine tracker, or even a scrapbook. Basically, it is an organizer that you can customize to your own liking. I find that people can overcomplicate the purpose of a bullet journal because it is simply up to you on how you want to use it. I personally have two bullet journals, one is used as a planner where I record my daily routines and weekly goals while the other one is used as a scrapbook.
How to Get Started
The first thing I recommend in starting your journey with bullet journaling is to have a goal in mind. What is the purpose of your bullet journal? This will help you design your journal accordingly. Remember, there are no rules to this creative outlook, you are free to do whatever you please. But having a goal in mind can help you understand the resources and materials you might need. It can also help you facilitate the aesthetic that you want to achieve.

The only requirement that I would suggest is purchasing a journal to work on. There are many types of journals but I would advocate using whatever suits you best. This could be a blank diary, a student notebook, or even a digital book. However, the most common journals are journals that are dotted or dotted grid. This pattern allows structure and guidance so that you can create straight lines and symmetrical visuals. Personally, I like using the grid as a premeasured outline to construct my layout. The dots help me determine the size of the pages so I can frame my designs proportionately.
If you are looking for a reasonably priced bullet journal to start with, I recommend the Bullet Dotted Journal from Amazon because it is a sturdy journal that is affordable for what it has to offer. It is constructed with thicker pages that will help increase resistance to wet inks. It is bound nicely with faux leather and has two bookmarks and an elastic casing to keep your bullet journal fastened (which helps because the more you fill up your journal, the more likely it will have a hard time staying closed). I also like that it provides page numbers and an index so that you can organize your pages. This journal is a great option if you are just starting out because it covers all the basics.
Another thing to keep in mind is to determine the type of materials you plan on using. If you decide on a heavier artistic approach, then you might consider getting a larger journal with thicker papers. If you plan on using a lot of wet ink, find pens that are designed to use in art journaling. I use the iBayam Color Pens from Amazon because the pens are created with water-based inks and have a very fine line tip to mimic small details. I love this set because it is super affordable and I had mine for over a year and it has not dried out! Another pen option I favor would be the Sharpie Art Pens because of how vibrant the colors are. You can't go wrong with the Sharpie brand but they can run a tad bit more expensive.

And the creativity does not stop there. You can choose to use whatever materials and decorations you want to showcase your skills and to succeed in your bullet journaling goals.
Skincare Tracker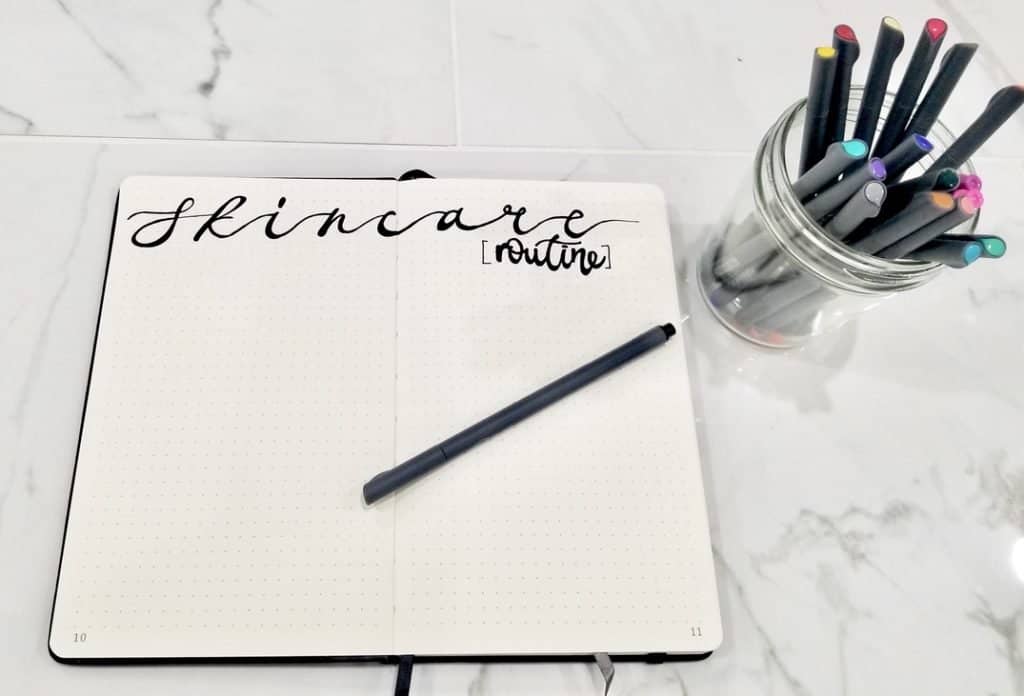 I love skincare and I find it very hard to stick to a routine due to laziness (oops). I also tend to have a problem hoarding products and forgetting to incorporate them into my routine. One of my favorite ways to use my bullet journal is to use it as a habit tracker. I use it for skincare, my water intake, physical activity progress, mood tracker, etc. I think this categorizes the entirety as "self-care" since it helps me understand how well I am taking care of myself. I like to look at these trackers at the end of the month to see if there is any improvement to my overall health and to understand what works for me and what does not.

To get started, I plan on what type of aesthetic I am approaching. I try my best to keep a minimalistic look but I can get too crazy with stickers so I decided on a very basic monthly tracker. Here are the materials that I will use to achieve this approach. This includes: markers, watercolors, brushes, stickers, paper, scissor, glue, and a ruler.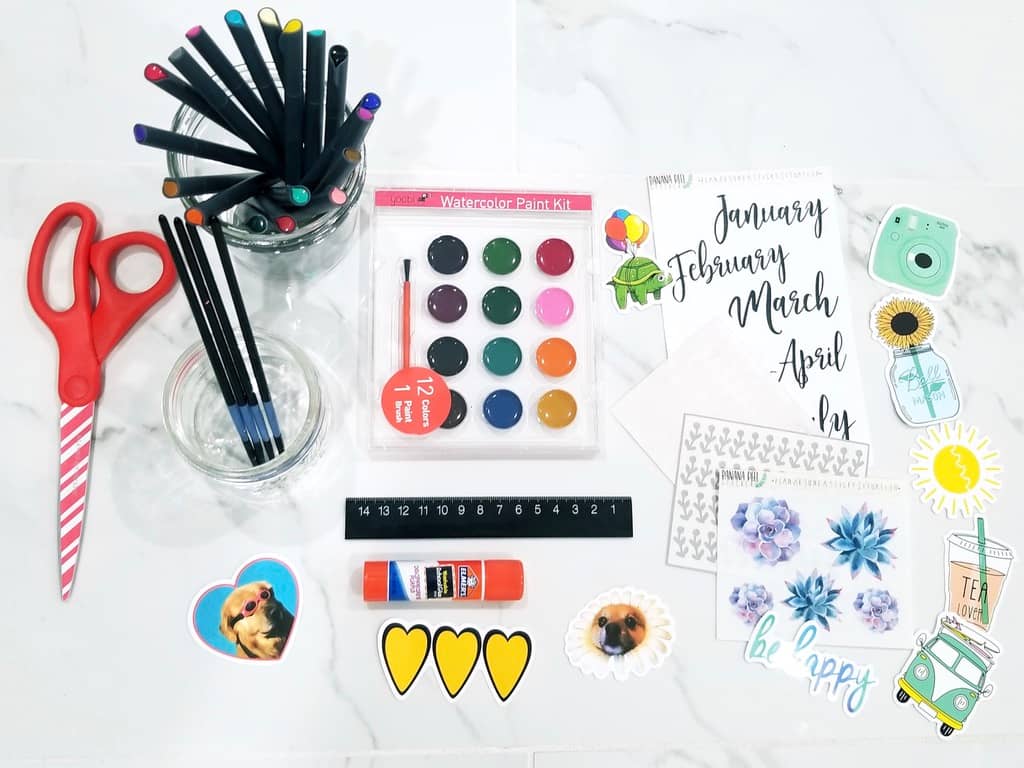 To start, I divided my journal into sections and dedicated a page to use as a monthly title page to kickstart the month of June. I used stickers I got on Etsy from a shop called Banana Peel Stickers to coordinate this look. It is very simple but I like to keep it plain just in case it will be a busy month and a lot of chaos could happen in the upcoming pages. Next, I chose the page numbers I wanted to use to apply my skin care calendar and tracker. I opted to use two pages because I knew that my decorative pieces would require more room. Just to be careful, I used a pencil to draft out the title and used my iBayam black colored pen for the final inked look. Calligraphy isn't my strongest suit but it is a very popular method in journaling so I say just go for it!
Next, I calculated my layout because I want to make sure that everything can fit across two pages. Using the dotted grid format, I counted the number of boxes to determine the overall size of this layout. I decided that I can list my routine on the left side and have my calendar stretch across both pages with the calendar days labeled on the top. For each step that I complete, I can use a dot as a checkmark in each grid box. This is a simple and effective method that is easy to read and complete.

I wish I had skin care stickers because I find stickers to be more presentable so instead, I chose to recreate my products using watercolors. Watercolors are soft and easy to use because it dries quickly and has more wiggle room. To recreate my products, I fabricated a simplistic design of my skin care products using standard printer paper (I should have used watercolor paper) and the Yoobi Watercolor Paint Kit. I waited for them to dry and then outlined them with my black colored pen and then I created a border surrounding each product. I trimmed around the border to create a sort of "bubble" effect that I think contrasts nicely with the pages of my journal.
After allowing these to dry a little longer, I settled on glueing them down at the bottom of the pages. Even though my tracker already had the routine listed on the side, I think that the visual aspect of these "stickers" makes me more excited and determined to fill out my tracker.
What Are You Waiting For?
And then it is done! See how easy that was? Now, I have my summer skincare steps listed with all of my favorite products visually presented at the bottom. To the left, I listed a basic evening routine with an optional list of three weekly treatments (the masks) to help me coordinate my product use throughout the month. I think the most time consuming part of this process was planning on how I wanted my design to look like. Once you get a general idea on how you want your bullet journal to look, everything else comes easy! I advise those who are still brainstorming to go online and look at templates and to look at other examples that people have created. Once again, this is your own creative outlet so be as daring and innovative as you would like. It is okay to make mistakes and okay to skip pages or start in the middle of the month. Go crazy!
Designing your own bullet journal is so much fun and allows your creativity to prosper while keeping your life and ambitions intact. This is your own organizational channel that is constructed to work for you. Please go have fun with it and comment below what you would like to see next!
Everything You Need
This post may contain affiliate links, which means I'll receive a commission if you purchase through my link, at no extra cost to you.
Bullet Journal $7
https://www.amazon.com/gp/product/B07GWRNHB3/ref=as_li_tl?ie=UTF8&camp=1789&creative=9325&creativeASIN=B07GWRNHB3&linkCode=as2&tag=theawesomepos-20&linkId=5b17ac3957790d3bf1eec7ad11c04fb4
Markers $9
https://www.amazon.com/gp/product/B0772XSNXY/ref=as_li_tl?ie=UTF8&camp=1789&creative=9325&creativeASIN=B0772XSNXY&linkCode=as2&tag=theawesomepos-20&linkId=9958ed06f260de922d845152c9371d61

Sharpie Art Pens $28
https://www.amazon.com/gp/product/B01MQREKYI/ref=as_li_tl?ie=UTF8&camp=1789&creative=9325&creativeASIN=B01MQREKYI&linkCode=as2&tag=theawesomepos-20&linkId=49e40a3f343f7957d892dc6b2a24145d
Banana Peel Stickers Etsy site
https://www.etsy.com/shop/BananaPeelStickers?fbclid=IwAR11qqz7WfzRdjawa9WerXqGJhe-9JQey4lt414eOUg0blZyt2I3z26ZfyE

Yoobi Watercolor Paint Kit $8
https://www.amazon.com/gp/product/B07FKCB1PV/ref=as_li_tl?ie=UTF8&camp=1789&creative=9325&creativeASIN=B07FKCB1PV&linkCode=as2&tag=theawesomepos-20&linkId=eeee6d39774788a87ed1028ee526b513