A curated list of thoughtful Valentine's day gifts for that special girl in your life. Get her any of these gifts and she is sure to fall in love all over again!
Disclosure: There are some affiliate links below, but these are all products I highly recommend. I won't put anything on this page that I haven't verified and/or personally used.
1. Custom Photo Book by Chatbooks
Use my code POMPAM-PREM for $10 off your first order!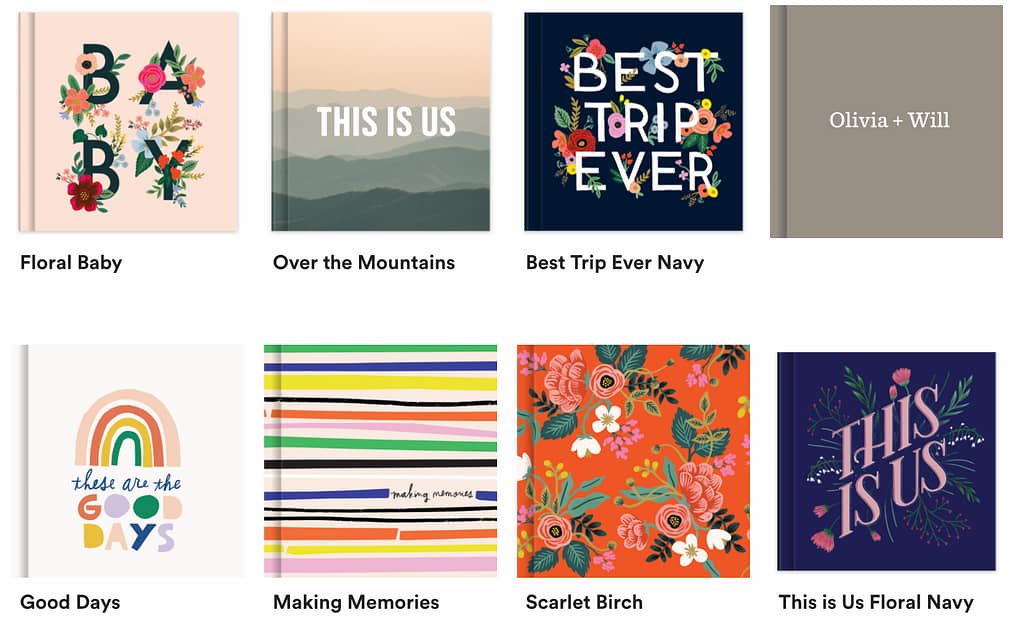 We live in such a digital world now where photos are all stored in the cloud and are never printed. The feeling of holding an actual written letter you received in the mail is just different than getting a text nowadays. Any girl would love a printed book that holds fun memories you two shared together throughout the year. I ordered a 2020 year in review book from Chatbooks and I love how their phone app makes it so easy to create a personalized book. It's high quality, the price point can't be beat (use code POMPAM-PREM for a FREE Series Photo Book) and they have fast shipping time.
Use my code POMPAM-PREM for a free Series Photo Book OR get $10 off your first order! Check out Chatbooks' blog post here for more creative and romantic ideas to help you decide what kind of photo book you'd like to create for her.
2. DIY Hot Cocoa Bomb & Mug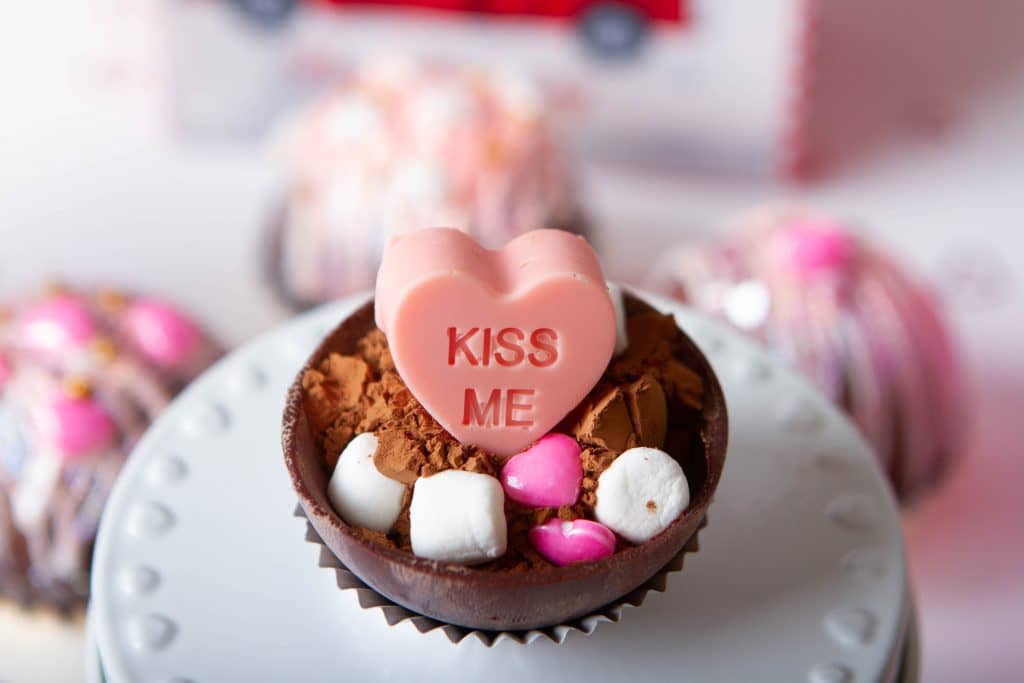 Hot cocoa bombs are all the craze right now! Instead of buying one at the store, why not make some yourself? Girls love it when you put in effort to make them cute and yummy desserts (mostly when they are instagram worthy). You can make a whole date night out of this gift too! Get her a set of cute mugs to drop your hot cocoa bombs in, grab some popcorn, and watch a movie.
Check out The Denver Housewife's blog post for the recipe to create super cute hot cocoa bombs. You can get the sphere moulds on Amazon.
3. Date Night Ideas Scratch off Poster
This gift is perfect for the adventurous girl. If you ever run out of ideas for date nights, this poster will be a lifesaver. Just scratch off any box to reveal your surprise date idea for the day!
You can also make one like this yourself with your own creative date night ideas that are more specific to where you live or personalities. All you need is a frame, scratch off stickers, and a pen! You can get scratch off stickers on Amazon.
4. Reasons Why I Love You Jar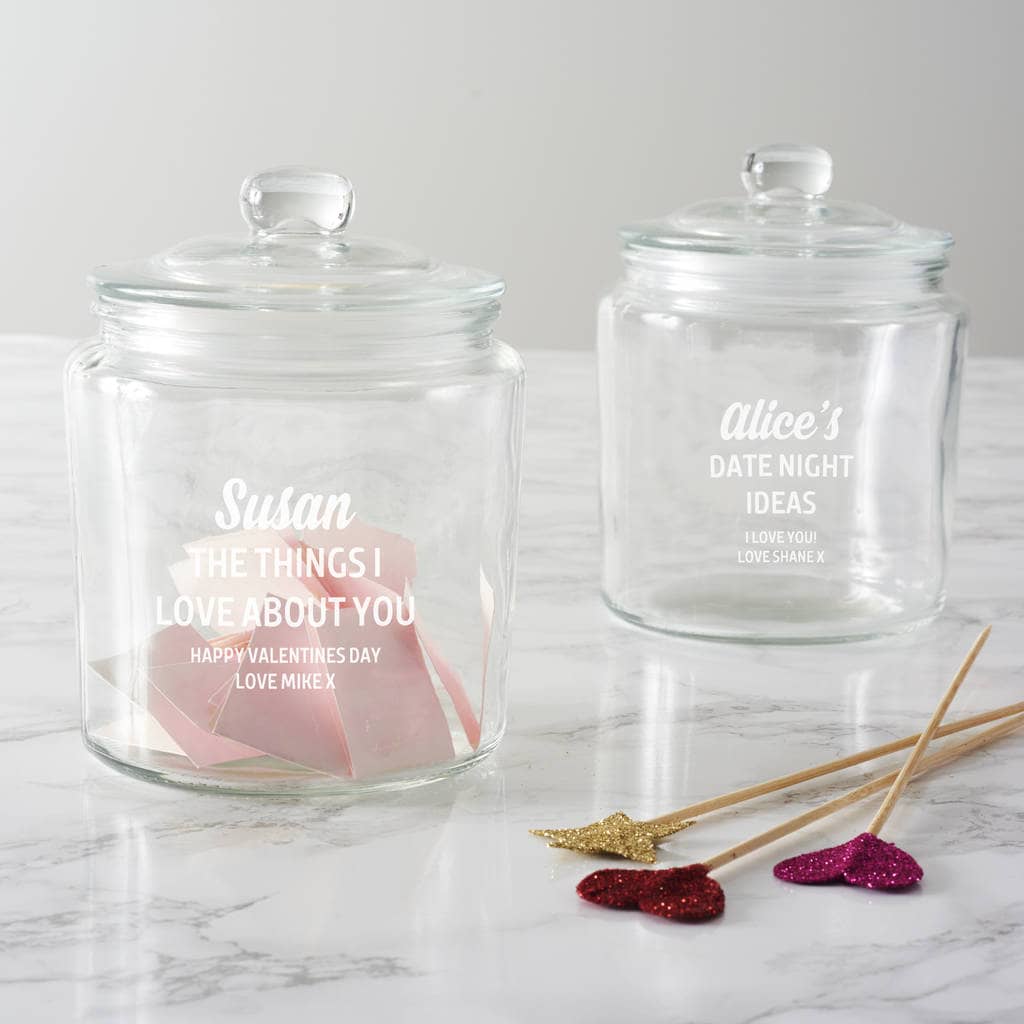 I've done a version of this where I wrote down something that made me happy, laugh, or what I was grateful for everyday. I stuck the pieces of paper and put it inside a jar. Years later, when I found the jar again, I read each piece of paper and remembered all the fun memories I made that year.
I think this is truly a great gift for someone who loves sentimental things. Imagine opening up a jar full of fun memories and things someone loves about you.
You can even just get a jar, box, or any container and write down one thing you love about her every day for 1 month or 1 year. Any time she's feeling down or needs some encouragement, she can read all the little handwritten notes in the jar from someone who loves her.
5. Personalized Dainty Necklace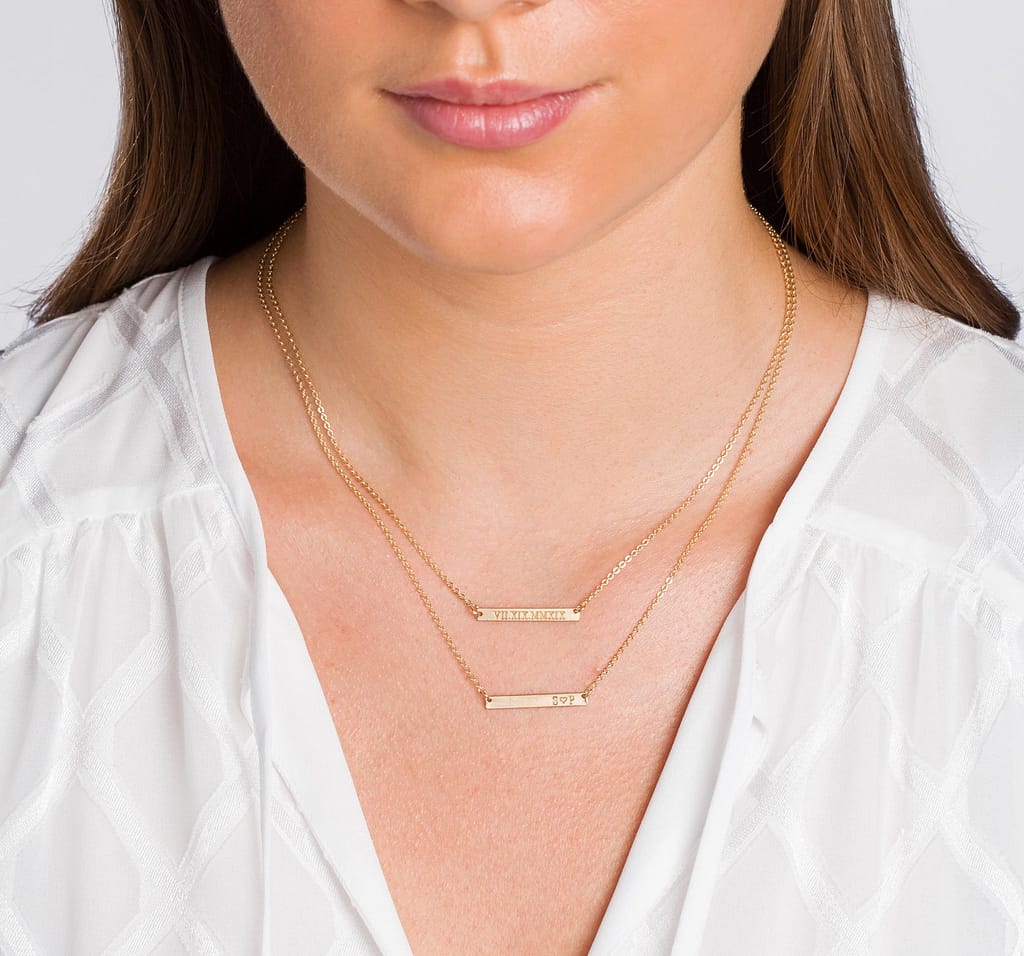 Get it from Etsy by CustomBrites for $20.80+
I've gifted this dainty necklace to three of my friends and they all absolutely loved it. It's the perfect gift for everyday wear because it's so simplistic and classic. Not only will match any outfit she wear, it will also remind her of you!
She will love gift because she can wear this custom engraved necklace with other dainty necklaces for a layered dainty necklaces look. You can get her and your initials engraved with a heart in between (like shown in the photo above) or your anniversary date (in roman numerals), or gps coordinates of where your first date was.
6. Scannable Spotify Plaque With Custom Photo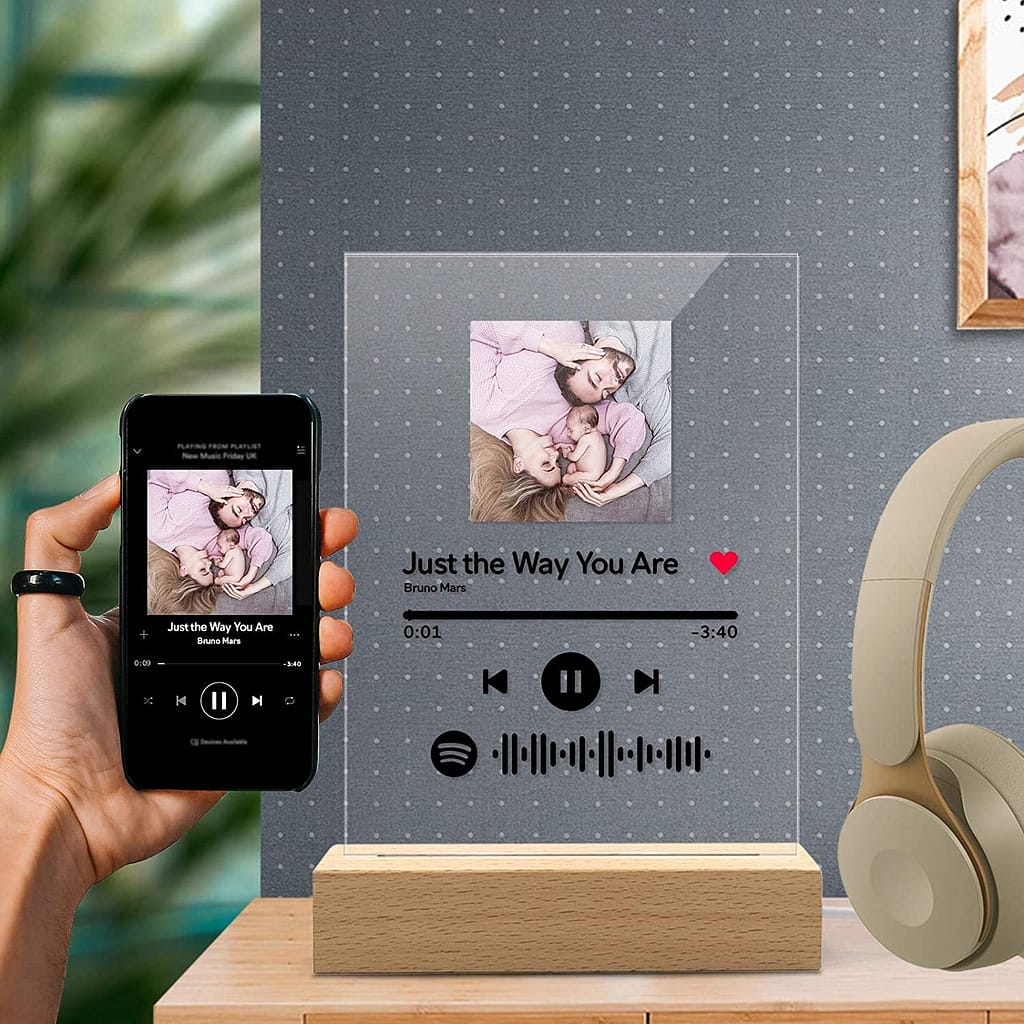 Imagine how cute this will look on her bedside table just sitting there ready for her to play your guys' song before she goes to bed or when she wakes up. You will literally be her first and last thought of the day! (aww)
You can personalize it with any photo and song of your choosing. I'd say go with a song that always gets you guys dancing or being goofy to or one that captures how you feel about her.
7. DIY "I Love You Because…" Erasable Frame
This gift is super simple, yet so powerful at strengthening your relationship. A loving note that takes less than 30 seconds out of your day to write will bring a smile to her face. This doesn't have to be a one way gift either. You both and take turns writing each other notes every day!
All you need is a frame, a dry erase marker, and any type paper for the background. You can find cute frames for a great price at thrift stores or at Michael's craft stores where they always have coupons.
8. The Comfy Teddy Bear
This is for the girl who loves staying in and being cosy. I was gifted this and absolutely love how warm it is. Perfect for movie nights and bonfires. Get a matching one in your favorite color (they have many colors available) and just relax together with her favorite meal and dessert. Be prepared for pictures will be taken in your matching Comfys (and possibly living in them forever).
9. Encased Rose / Flower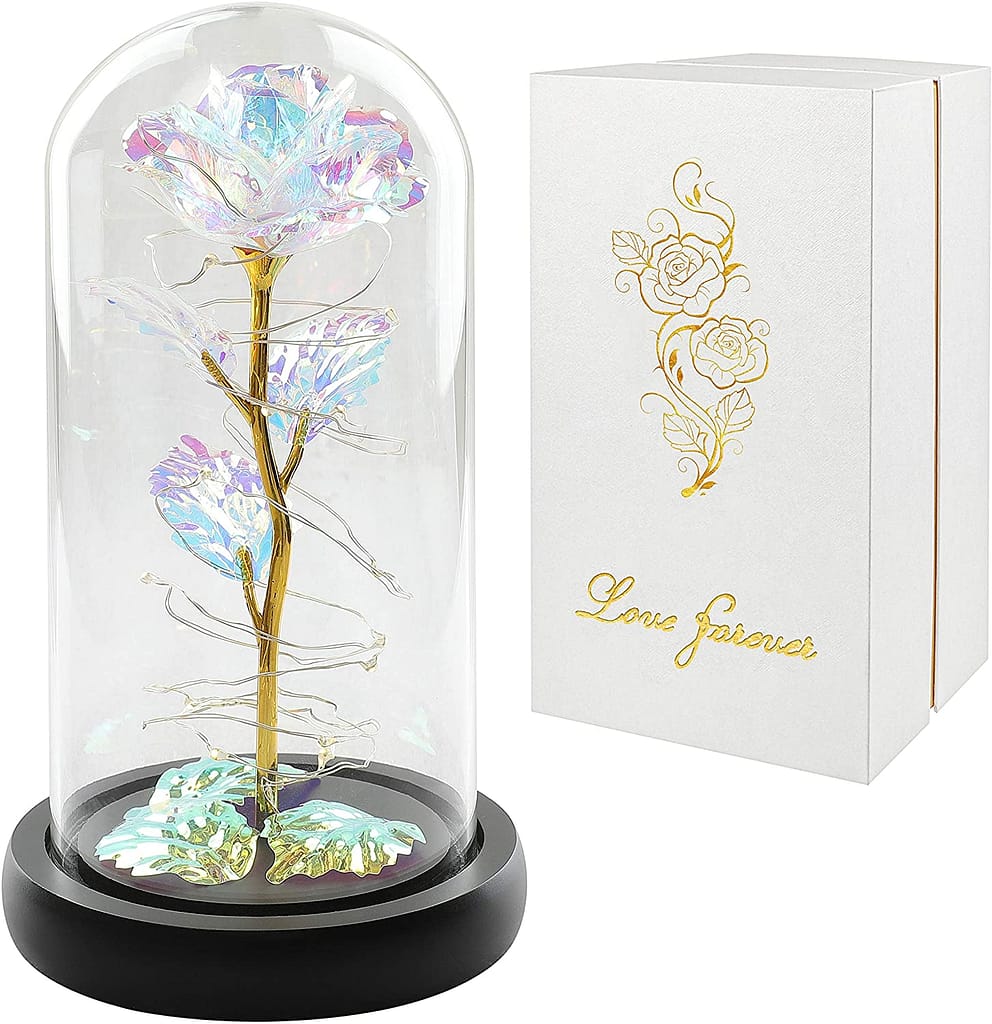 Just look at how aesthetically pleasing this rose is!! It will look amazing with the fairy lights turned on at night on her bedside table or anywhere in the home. She will feel like she's in Beauty and the Beast!
10. Custom Puzzle
If she likes just spending time with you and doing projects together, this is the perfect gift for her. You two can spend the day together putting together this puzzle to reveal the cute photo you chose and just enjoy each other's company. A little challenge that you two did together is such a good feeling of accomplishment she is sure to enjoy. After you're done, you can frame it and hang it up on the wall!